Kokura Hikari loves rifle shooting and aims to refine that love up to Olympic levels. However, her school's Rifle Club Four girls is discontinued the day she tries to join it and blah blah blah a new club of four girls comes together before the mid point of the first episode.
Active Shooter on Campus is a shelter in place it's so bad because it's so generic Girl's Club anime. It is visually competent, with crisp line work and broad color, but there is nothing else positive to say about it. The cast has no depth or interesting motivations. The humorless story telling and setting has no gimmick or novelty. At 22 minutes, this is absolutely not worth your time.
We're on vacation! No reviews scheduled for the rest of the week, except whatever Oigakkosan writes up. Regular service to resume next week. —RABUJOI STAFF
This morning we were heartbroken to hear about the over two dozen victims of an arson attack at Kyoto Animation this morning. The details of the attack are shocking. We extend our sympathies to their families; they are in our thoughts. You can donate to the KyoAni team here.
Like we the viewers, Mangetsu begins this episode not sure why or how she ended up nude in Ernesta's bed. Meanwhile, Mangetsu's family panics and calls the police to report their daughter's disappearance. While a literal hand wave (of magic) fixes the situation, I can't help but feel like a more interesting plot line was waved away with it.
What follows is a by the numbers plot where Ernesta joins Mangetsu's class as a transfer student, demonstrates or explains more about magic, and the source of Mangetsu power remains a mystery (and she continues to grow more powerful).
Side characters are developed a bit on the edges, such as a now magicless Rosa being kicked out of Anna Fugo's mansion, and twins being introduced in Hong Kong, but those elements each felt isolated and inconsequential to the main plotline.
Granbelm's broad color pallet, use of gradient fills, and subtle audio style make it pleasant to watch. However, these same qualities emphasize how frustrating its utterly incompetent narrative structure is at the same time.
Mangetsu has a Mary Sue quality, as seen by her natural immunity to magic and substantially higher powerful when casting magic. However, Mangetsu's absence of personal flaws and lack of immediate challenges to overcome are more frustrating. She's passive, too kind, and too removed from the magic world. The resulting character feels generic and the pairing narrative doesn't have stakes. It's underwhelming.
At its core, Granbelm is a show that could easily be a lot better. Replacing the short and scattered side character 'check in' scenes with a clear B-plot would have given the episode more focus.
Ernesta would make a stronger protagonist because she has stakes in the magic battle, relationships to build upon, and her point of view would structure the mystery about Mangetsu's power as an actual mystery.
From Mangetsu's dull characterization, to her lack of agency, to her lack of interest in her own mystery, to her apparent OP magic status, nearly everything  Granbelm idea feels wrong. Anna's declaration at the very end of the episode gives me a sliver of hope — that Mangetsu is a demon could be an interesting twist on the demon lord and magic girl genre conventions — but it's just a sliver of hope.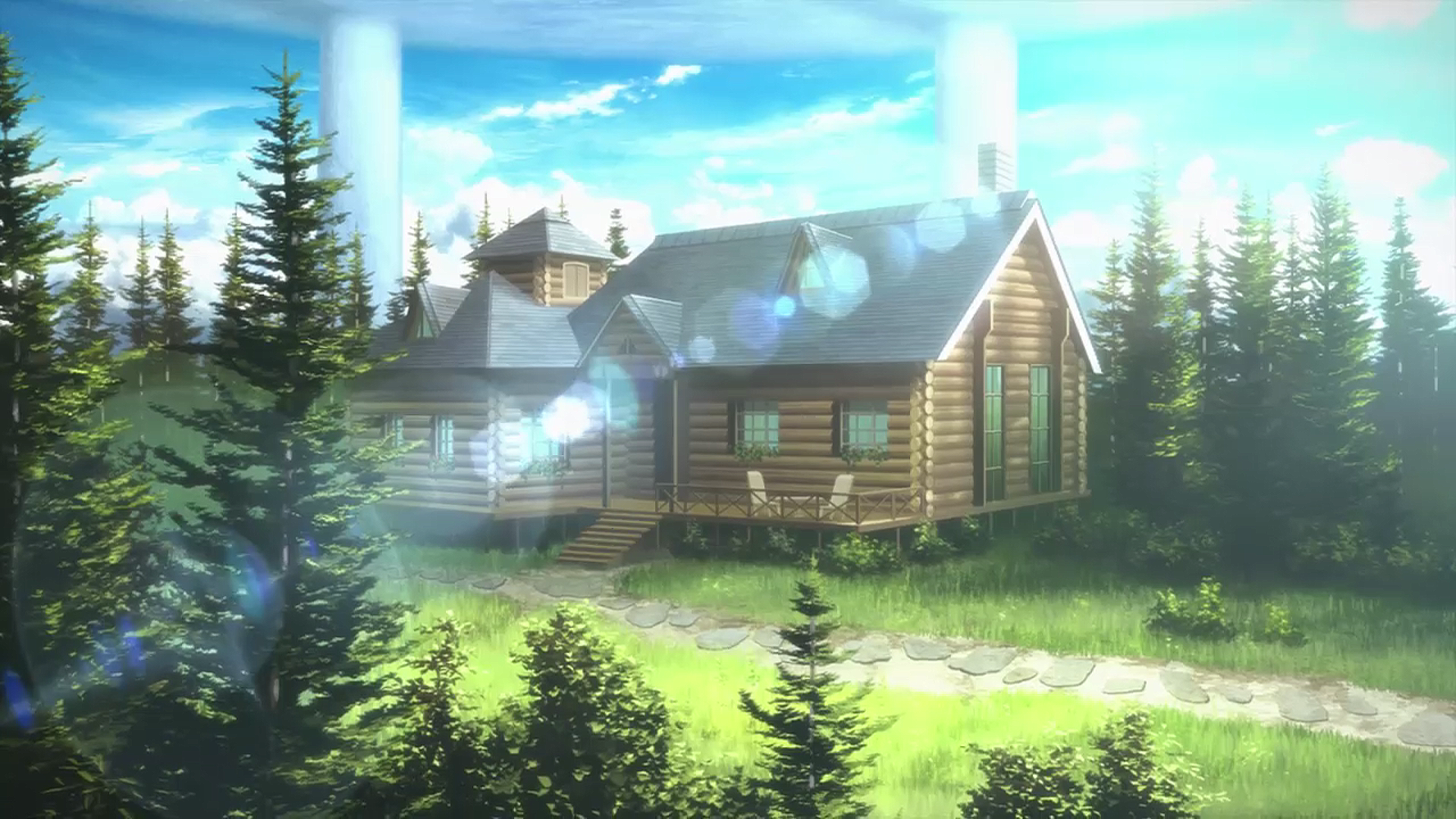 After Chinatsu's request to confess to the same boy Akane is dating, Tsuki ga Kirei hits the pause and rewind buttons for a "the road so far" recap. BAH!
The only thing to note is that after six episodes of a highly-filtered live action Shinto cultural dance sequence in the middle of the OP, it looks like they finally got around to animating it (see above).
Alas, there's no new story until next week. Booo :(
The Gist: Lucifer falls to hell but passes her blood to a mortal on the way down. Then she meets the seven deadly sins, which are demon lord ladies that want to kill and or do her or both. None of it makes much sense and none of it is voice acted or presented in an interesting way, but she beats them and sets a story min motion…
The Verdict: it's slightly sexy, in so far as the uncensored version has nipples and touching between girls with huge breasts but it is not coherent nor H-enough to fill that kind of thrill. If you need an nonsensical christian'ish themed girl touching show… honestly, you can do better than this?
I mean, I know why it was made and who it is for and it is higher quality than your typical ecchi girl-touching fight genre show, but not by much. Seriously, just hang out at a bar till closing time and take whatever desperate hook-up that's left home with you. You'll feel less dirty in the morning…
The Gist: imagine a world where WWF from the 1980's was really real and the absurd backstories of its actor/wrestlers were harsh and traumatic. Now imagine that world is crudely drawn, quickly (but incoherently) paced, and you have Tiger Mask W.
The plot is about two boys who enter wresting to take revenge upon the man who destroyed their father/ father figure. Each boy ends up wearing a tiger mask, but for different organizations and will, probably, have a show down with each other at some point in the season.
bad figures, color pallete, composition and scale… at least it has a picture of a motor cycle in the middle of it…
The verdict: Tiger Mask's plot is almost terrible enough to be funny but it's too convoluted to engage. The whole Global Wrestling Monopoly Conspiracy is weird and distracts from the initial thrust of the story, and I'm not even getting into the whole gym of under dogs that somehow get rolled into 'Monopoly's plan to take over Japanese wrestling.'
Maybe I'm too old for this? But, even if I liked wrestling, animation this ugly and narratively slapped together would probably be a turn-off.
The Gist: 5 generic girl-types in skimpy clothes prance around talking to the viewer, who doesn't talk back. A mouse digs into one girls boobs, another girl does leg splits in front of us, there's a 8th grade syndromer, and a clutz with big boobs and glasses. Also, a white haired girl on a mover board.
While the first person perspective participatory role of the viewer is interesting, there's nothing novel about Anitore! XX. It's just tame ecchi with blushing girls showing their stomaches and making cute noises. It's not even clear what the plot is from the episode, since no one bothers to explain what is going on and there's no twist or reveal.
While the art style is serviceable, and the angles are actually creative, you have so many cuter or raunchier shows available. Add on that this is a short format (4 minute run length) show and there is no reason to expect anything to develop during the season either.
This USJ battle has really slowed down to a crawl: the only thing of note that happens is that All Might defeats Nomu.
Granted, that's a big deal, as Nomu was hailed as being at least as powerful as All Might—indeed, he was created for just that purpose—it's just that the presentation of his duel with Nomu underscores the fact that this is merely a competently-executed shounen superhero show with little in the way of creativity to offer, at least at this stage in the game.
I was, perhaps unfairly, hoping for more a little more innovation or comedy a la Flamenco or One Punch, but events remain steadfastly (and rather boringly) serious, intense, and slow.
All Might can't beat everyone alone—brawlers like Bakugo, Todoroki and Kirishima swoop in to stop Kurogiri from slicing him in half with his warp clouds—but it's not long before students and villains alike simply stand off to the side and gawk as All Might and Nomu go at it mano-a-mano.
Shigaraki tries to add some philosophy into the battle about good and evil and violence, but it's neither convincing or compelling; these are bad guys, pure and simple, and they need a good beating. All Might delivers an over-100% street brawl that manages to overwhelm and launch Nomu into the sky, and just like that an implacable foe is…neutralized.
My understanding coming into the episode was that this was going to possibly be All Might's last moments: he was already at his limit when he arrived, and the "less than a minute" of power he had left was certainly stretched out over more like ten minutes. He's also steaming by the end, as if he could revert to Heroin Might at any moment.
But Shigaraki and Kurogiri are still standing and ready to fight, even without Nomu, and unless other heroes/teachers show up, it will be up to the students to finish the last of the villains off in episode 13, if they can.
Nos pensées et nos prières sont avec nos amis de la République Français.
This week offers plenty of opportunities for Shirayuki to get kidnapped again, only for Zen to save her, but wisely avoids taking those roads. Instead, Shirayuki comes back from her solitary trip to town without incident, and Zen brings her to a fort where a mysterious sickness is sapping everyone of energy, even her.
And as Zen tells her when she determines the cause of the sickness—toxic firewood—I'm in full agreement with him that Shirayuki is so damn cool. She and Zen make a great team, because they complement each others' unique skills. Zen is the brawn and access when necessary; Shirayuki has the medicinal know-how and determination to restore the entire fort's garrison in no time at all, earning all the soldiers' gratitude and respect in the process.
But not everything's peachy. It turns out Shirayuki's worst enemy this week is her own inability to take a damn break. She loses her balance on many occasions, even after the firewood mystery is solved, and Obi has to leap in to save her from taking a serious tumble, disobeying orders to stay away from her.
Rather than blame Shirayuki for working too hard for too long, Zen blames himself as leader for not seeing her fatigued state sooner. He puts her to bed (once her eyes are closed, it takes less than three seconds for her to thankfully conk out), then takes care of the bandits who stole the forts weapons after drugging the soldiers.
He returns to her bedside to thank her for her hard work with a tender kiss to her hand; very princely. He also tells her never to keep quiet when she's weak from overwork and insufficient sleep. He'll certainly keep a sharper eye, but Zen needs her to take care of herself, not just everyone else. Her first herbalist mission outside of Wistal is both a resounding success and a learning experience.